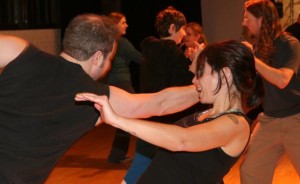 The Tony Wolf System is an integrated approach to skill-based training in martial arts, stage combat, physical theatre and self defense.  This website will introduce you to the system via its founder and his work in each of these fields.
How does it work?
The Wolf System is a unique progression of co-operative exercises and competitive games, alternating between improvised and pre-arranged movement in a semi-structured format.  Participants normally begin working solo or with partners, then progress into group or team exercises.
Through the challenging, yet enjoyable task of mastering and then blending the games, participants develop physical ingenuity and confidence, tactile sensitivity, balance, stability and relaxation at the intuitive, "body knowledge" level.
Depending on the particular course, these exercises thus provide a firm yet flexible foundation for technical skill development in recreational martial arts, self defense, stage combat and/or physical theatre training.
Comments on the System
Tony's  exercises focused on allowing participants to explore techniques beyond their rote form, so they could build on them, improvise, and adapt to changing situations.  One if the aspects I enjoyed most was the method of contact flow exercises Tony employed to help us explore the principles of the art.  This really helped us not get stuck trying to force a given technique and instead allowed us to explore how all the techniques support one another …

… this approach offered some real added value and insight. All in all this was a terrific workshop and I think we're already looking forward to having Tony back. – Devon Boorman, Vancouver, Canada
Tony came and did a one day workshop on his Wolf system of movement and body dynamics for us two years ago and we still use many of the exercises and concepts. It's great work, and his teaching style really gets people "living in their bodies", something modern people are not good at. – Greg Mele, Chicago, Illinois
All of the exercises involve warm-up and stretching components, as well as spatial and body awareness components and safe falling exercises. Towards the end they are combined in a series of spontaneous partner drills. It's all tightly integrated and proves to be a perfect warm-up …  far superior to anything I've experienced previously. My students can expect to see it incorporated into our regular practice. This was a rare opportunity to train with a highly skilled professional martial artist. – Maestro Sean Hayes, Eugene, Oregon