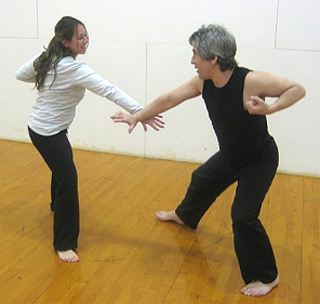 New Zealand citizen and U.S. resident Tony Wolf has spent over three decades studying a wide range of martial and performing arts.  His professional travels have taken him throughout the USA, Canada, the United Kingdom, Italy, Germany, Japan, New Zealand, Australia, Denmark and the Netherlands.
Tony's fight direction and action design have been featured in over two hundred feature film, television, theatre, opera and ballet productions.  His most notable screen credit was as the "Cultural Fighting Styles Designer" for Peter Jackson's Lord of the Rings trilogy.
Tony pioneered the practice of full-contact, scenario-based "padded attacker" self defense training in his native New Zealand.  He is acknowledged as a world authority on 19th century "antagonistics" (martial arts and combat sports) and is also the founder of the No Harm, No Foul method of non-aggressive self defense for zero-tolerance and duty of care environments.
Since 1995 he has taught aspects of the Tony Wolf System via lectures and courses for universities, theatre companies, martial arts schools and conferences, performing arts festivals, stunt teams and adult education programs.
Tony has authored and/or edited eight books and has contributed numerous articles to journals, anthologies, websites and encyclopedias.  His script for the one-act play Satisfaction tied for first place in the 2006 Joining Sword and Pen international playwriting competition.  In 2009 he co-directed and co-produced the feature documentary Bartitsu – The Lost Martial Art of Sherlock Holmes.
In 2008 Tony was awarded the Fae Rawdon Norris Fellowship as a guest artist at Oklahoma State University.  He currently serves on advisory boards for Western Martial Arts Illustrated magazine, the Bartitsu Society and the Hegeler Carus Foundation.  He is based in Chicago, USA, where he tends to his growing collection of antique exercise apparatus and to his wife, Kathrynne.