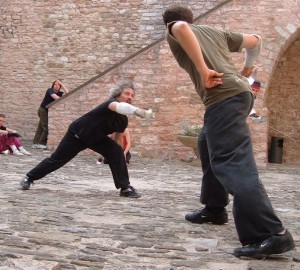 In the late 1980s Tony started working as a stage combat/physical theatre tutor, stuntman and theatrical fight choreographer.  Because there were few mentors in these skills available to him in New Zealand, he devised his own teaching and choreographic methods, drawing from his years of training in a range of martial arts, circus arts and even professional wrestling.  His methods evolved towards an integrated combination of training games and exercises, laying the foundation for the modern Tony Wolf System.
Tony's professional fight directing credits include dozens of productions for companies including Downstage, Circa, Centrepoint, Wellington Musical Theatre, Opera New Zealand, the Royal New Zealand Ballet and Bats Theatre as well as for numerous touring shows.  He has taught and staged fight scenes for Toi Whakaari: the New Zealand Drama School, the New Zealand College of Performing Arts, the National Youth Drama School, National Academy of Singing and Dramatic Arts, Eastern Institute of Technology Performing Arts and many other performing arts academies.
Internationally, Tony has taught, directed and performed for events including the Washington National Opera's 2002 Japan tour, the Stamping Ground dance and physical theatre festival (Bellingen, Australia), the Paddy Crean International Art of the Sword Workshops (Banff, Canada and Toowoomba, Australia) and the Scuola Brancaleoni (Piobbico, Italy).  He has been a guest tutor for dozens of universities, drama academies, theatre companies and stunt teams throughout Australasia, North America and Europe. He has also adjudicated stage combat competitions in Italy and in the USA.
Tony's fight choreography has been featured in TV series and telemovies including The Tribe, The Legend of William Tell, Tiger Country, The Enid Blyton Adventures and Forgotten Silver as well as feature films such as Chicken, The Truth About Demons and Brain Dead (US release title Dead Alive).  Between 1998-2000 Tony served as the Cultural Fighting Styles Designer for Peter Jackson's Lord of the Rings trilogy, devising unique fantasy martial arts and movement styles for seven major character types featured in the trilogy as well as training actors, stunt and motion capture performers.
Tony's stage combat publications include A Terrific Combat!!! Theatrical Duels, Brawls and Battles, 1800-1920.
The Wolf System in stage combat training
Tony introduced his seven principles of stage combat: Alignment, Articulation, Synergy, Extension, Illusion, Cascade, and Measure.  It was an excellent experience that combined some exercises we already knew with new ones of Tony's devising, all blended into a very unique and natural approach. I recommend this session for stage combatants and martial artists alike, as the core principles are really useful for the practice of any martial system whether illusory or applied. – Devon Boorman, Vancouver, Canada
I found myself understanding and being increasingly aware of the movements and dynamics of the fight sequence; what was my partner doing, where were my arms, what did the audience see, was my positioning correct and convincing? All these questions found simple answers through the increased awareness of space, movement and body due to the games we had been playing.

Everything was conducted in a safe, responsible manner. Tony's teaching manner is relaxed, fun but above all professional. I found him totally approachable and a pleasure to be instructed by. – Graham Ashford, Gosport, U.K.
This really was an excellent seminar and I would recommend Tony's teaching to anyone interested in stage combat at any level.

The fact that the delegates included complete beginners, stage fight instructors, actors, re-enactors and martial artists and Tony was able to provide useful and insightful ways of getting the best out of all of them was particularly impressive. – Anton Krause, London, U.K.
Tony Wolf's workshop in Michigan for Art of Combat was exceptional. His system is perhaps one of the best breakdowns of the necessary components of movement that I have ever seen.  It allows me to give actors a quick but thorough set of movement concepts based on solid principles that will enable them to understand the aspects of combat theory necessary to make the fight look real and still be controlled and safe. – John Lennox, Lansing, Michigan